"If you have a good idea and customer validation, you need to go for it when you are young. There is nothing holding you back when you're in your 20s."
It was this advice from Tyler Gage, Brown alum and co-founder of the successful Runa energy drinks, that inspired Rosie Mangiarotti to follow through with her product idea, Perkies. 
Her journey started in a Brown University course called "The Entrepreneurial Process: Innovation in Practice," where students are required to create a product and accompanying business plan. Rosie worked to create Perkies, formerly "ReliaBra", as an improved version of a sticky bra that includes a bra shell with replaceable adhesives, so customers don't have to buy a new sticky bra once the adhesive wears off. Upon finishing this course, Rosie continued to hear her sisters and friends complain about their own experiences with sticky bras—people who sweat frequently called for stronger adhesives while others had issues with the way that  sticky bras looked under their clothes. Thus, Rosie knew she was addressing legitimate customer pain points and decided to take her product and accompanying business plan beyond her class project. However, to validate her concept, she created and distributed a survey to over 500 consumers, asking them to describe their ideal sticky bra. Rosie created a product that is not only size inclusive (they come in half sizes and have an adjustable front clasp), but that includes recycled materials in both the bra and packaging!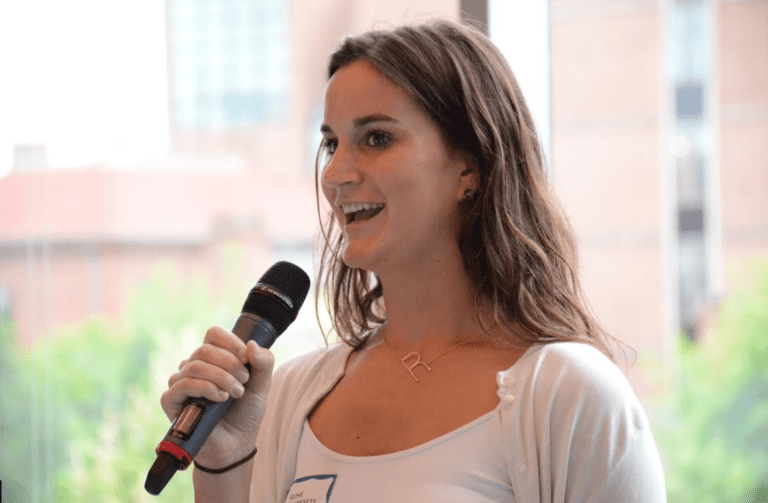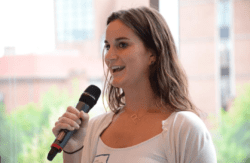 Rosie, pictured pitching Perkies.
Upon wrapping up her undergrad at Brown University, Rosie decided to pursue being a full-time entrepreneur, and began competing in pitch competitions. She was a finalist for the Brown Venture Price and won the audience vote at Cox's Pitch Prize. The most important thing she's learned through this process is the importance of a strong network and supportive mentors. Through her various pitch competitions, she has met many people who have given her advice on finance, fundraising, IP law, and market strategy, to name a few. Having this network available to assist Rosie has been instrumental, as she is new to the start-up world. Rosie has also learned the importance of keeping her network up to date on her progress, so they feel connected to her product. She advises  aspiring entrepreneurs to "keep a Listserv of everyone you have talked about your business to, and send frequent newsletters on your progress, so that your network feels invested in your product, and are more apt to provide feedback, advice, or later down the road, investments." 
Rosie is currently finalizing product details and is planning to launch a Kickstarter campaign in the coming months, yet has already started building relationships with VC firms and has potential investors who have expressed interest. Though aware of the statistic that only about 2% of VC dollars go to women founders, Rosie views this as an opportunity for her, as VC firms are growing in their awareness that women founders are growing scalable, investable businesses. Thus, Rosie sees her status as a young woman to be a value add, as opposed to an obstacle. This also may be attributed to the fact that the people who reach out to her are less likely to have a bias against investing in women. We wish Rosie the best, and encourage readers to check out Perkies once the product is on the market!
Visit www.perkies.com or follow @myperkies on Instagram to stay up to date on Rosie's progress!